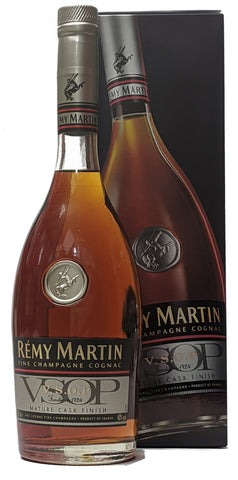 Remy Martin VSOP Cognac Mature Cask Finish
Originally created in 1927, VSOP evolved into the VSOP Mature Cask Finish in 2012. Rémy Martin VSOP Mature Cask Finish is the perfect harmony of powerful and elegant aromas. Fine Champagne Cognac.
NOSE:
Dominant notes of vanilla thanks to longer aging in French Limousin oak barrels, followed by ripe apricot, baked apple, and an elegant floral note.
TASTE:
A perfect harmony between the firm character of ripe fruit and subtle notes of liquorice, offering a great complexity of elegant and powerful aromas.
BODY:
Well-balanced, structured, and multi-layered. The roundness and fruity notes are enhanced by a one-year finishing period in small oak casks of over 20 years of age.
DRINK SUGGESTION
Rémy Martin VSOP Mature Cask Finish is extremely versatile, so you may enjoy it neat, on the rocks, frozen, or in cocktails.
---
We Also Recommend