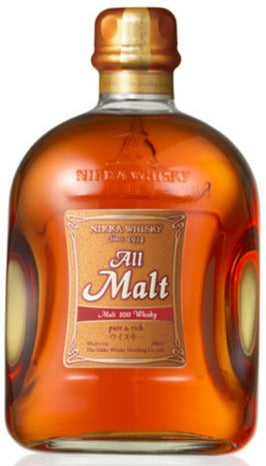 Nikka All Malt
Produced by Nikka and not that often seen in Australia, this All Malt bottling is the result of.a blend of Yoichi and Miyagikyo pot still single malts, along with an original Coffey malt whisky. Although made from 100% malted barley, a portion of this malt is distilled in "Coffey" type column stills normally used for grain whisky production. As such, the All Malt is categorized as a blended whisky.
Distillers Notes:

Colour:
Old gold with golden highlights.

Nose:
Lively and mineral. Animal (leather and smoked meat) and lightly smoky. Develops along a theme of fresh grass and ripe fruit.

Palate: Rich and delicious. After a burst of rich, liqueur-like softness which is at odds with the liveliness of the nose, ripe fruit (sultanas)
notes develop alongside an increasing oiliness.

Finish: Soft and liquoricy, with distinct notes os sandalwood and spices.
---
We Also Recommend