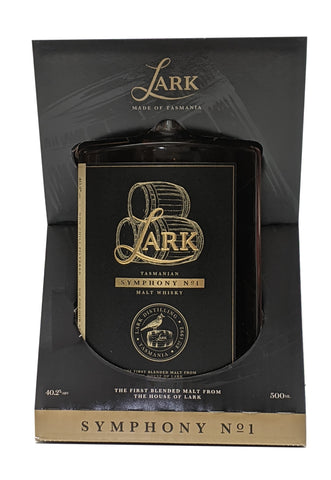 Lark Symphony No1 Tasmanian Malt Whisky
FULL OF LIFE... RICH, CREAMY AND DELICIOUS" - BILL LARK, FOUNDER
LARK MALT WHISKY Symphony N"l is the first blended malt from the House of Lark representing a composition of exceptional Tasmanian single malt whiskies.

Crafted from a symphony of complementary casks, Head Distiller Chris Thomson has expertly woven the complexity of American oak bourbon with the balance of sherry and heavier depth of port to form a creamy, oily melody of flavours; a malt whisky that's full of life from start to finish, and carries the uncompromised signature of Lark Whisky-a Tasmanian icon.
Lark Whisky was a vision borne from a humble fishing trip in the Tasmanian Highlands. Surrounded by the pristine Tasmanian ingredients of pure water, boundless fields of barley and freshwater sphagnum peat, founder Bill Lark dreamt of creating a world class whisky made of Tasmania.
A history defining moment, and the iconic birth of Australia's first eraft whisky set the benchmark for a rich and exciting inclustry; a uniquely bold spirit that is second to none.
---
We Also Recommend