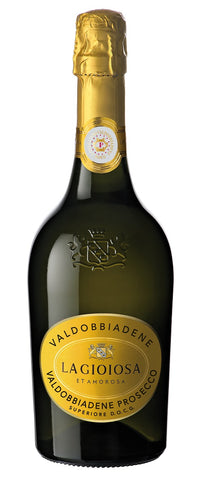 La Gioiosa Valdobbiadene Prosecco Superiore DOCG
Very pale straw and a fine, persistent perlage. The aroma is fruity with hints of ripe golden apple and small mountain flowers. The dry, fresh and flavoursome sensation on the palate is followed by a fruity and harmonious aftertaste.

Based in Treviso in the heart of Prosecco country, La Gioiosa is one of Italy's leading Prosecco producers. Owned by the Moretti Polegato family, la Gioiosa represents the tradition of winemaking which has been passed through generations of the family. Furthermore the company is at the forefront of innovation - the winemaker freezes the Prosecco must prior to fermentation to ensure maximum freshness upon bottling.
* Across any 6 bottles of wine, when purchased in store.
---
We Also Recommend