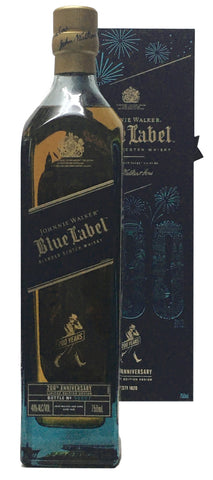 Johnnie Walker Blue Label 200th Anniversary Scotch Whisky
2020 & Beyond.......
Waves of smoke surging through velvety smoothness. Rich fruit flowing through swirling currents of spice.
Johnnie Walker Blue Label is a velvety smooth and vibrant Scotch - the result of every lesson  learned since John Walker first opened our doors in 1820.

Just 1 in 10,000 casks from our unparalleled reserves of Scotch, carefully crafted and curated for generations, have the remarkable depth of character needed to create Johnnie Walker Blue Label. Among these exceptionally rare whiskies are casks from long closed 'ghost' distilleries - whispers and echoes of generations past, bringing richness and depth.

Rolling waves of rich spice give way to a deep surge of vanilla sweetness and honey, Caramel and hazelnuts course through dark chocolate before a luxuriously long smoky finish.
This is where rare casks, rare craft and rare character come together in a glass.
---
We Also Recommend