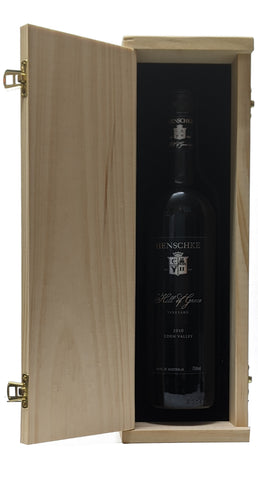 Henschke Hill of Grace 2010
A VINTAGE GRACED BY RADIANCE
The 2010 vintage of Hill of Grace is perfectly described by the word 'radiance'.
We often talk about temperature, rainfall and harvest dates when we describe a vintage, but we rarely talk about light. Fundamentally, light is one of the most important influences on the quality of the wine. The 2010 vintage is all about the light.
The growing season had more blue-sky days than cloudy, and the well-balanced, open canopies of the old vines allowed the light through to the ripening berries to develop exceptional flavour, colour and tannins. Furthermore, the weather patterns of the growing season were relatively moderate, with well-timed minor rainfall events that provided perfectly for this single vineyard. The 2010 Hill of Grace shiraz is radiant, vibrant and opulent, with characteristic exotic spices, layers of texture, and refined silky tannins with incredible length. The vintage is rated as 'exceptional', and the wine will develop beautifully over the years to come.
We have enclosed a trio of images that capture the essence of our Hill of Grace ancestor vines in a vintage graced by radiance. They were created by celebrated Barossan artist Rod Schubert. Rods paintings are a story of a vineyard in an ancient Australian landscape and the quality of light that graces this evalley
"I was absolutely captivated by these ancestors; they have an inner glow that only comes with time and maturity. I wasn't trying to paint just the vines; I was trying to portray an incredible life force that spans 150 years."
Prue Henschke
| | |
| --- | --- |
| | |
* Across any 6 bottles of wine, when purchased in store.
---
We Also Recommend