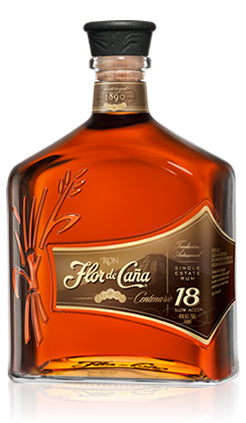 Flor De Cana 18YO Centenario Rum
This spectacular ultra premium rum, bright amber color of 18 years has a rich complexity of flavors and a smooth finish that lasts on the palate. Flor de Caña 18 Years takes almost two decades for its preparation and you can taste the tradition and craft excellence in each drop.
COLOR:
Bright Amber

PALATE:
It has an opulent entrance, gives way to a viscous, dry, full-bodied palate that tastes of dark chocolate, caramel, roasted nuts and dark species. It ends with a long taste of burnt oak, vanilla and toasted nuts.
---
We Also Recommend