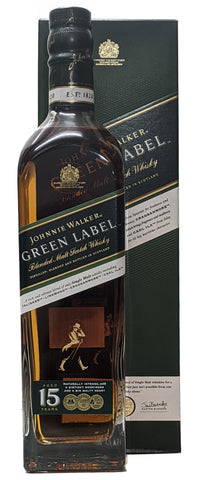 Johnnie Walker Green Label 15YO Scotch Whisky
Johnnie Walker Green Label" is a rich, vibrant and balanced blend created using only Single Malt whiskies, matured for at least 15 years in European or American Oak. Blended together these whiskies open up a greater depth and a wider range of flavours than is possible with one Single Malt whisky alone.
Each of the Single Malt whiskies in Johnnie Walker Green Label has its own distinctive character, so the challenge was to create a blend of great depth and complexity without losing the individuality of the malts . Not an easy task!
 To produce these beautifully balanced flavours we've brought together whiskies from the four corners of Scotland - classic Speyside, Highland, Lowland and Island Single Malts.
Among the Single Malts included are Talisker from the Isle of Skye for its intense smoke and spiciness, Linkwood from Speyside for freshness and vibrancy, Cragganmore, which brings fragrance and maltiness and Caol Ila . the Isle of Islay best kept secret - for its big maritime character.
 This is a naturally intense blend, with a distinct smokiness. I suggest you enjoy its great flavours neat or over ice and in good company.
.
---
We Also Recommend