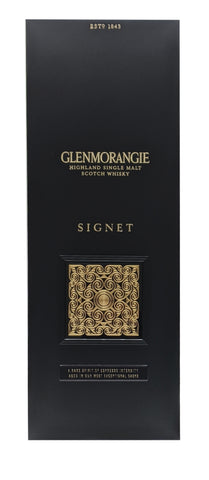 Glenmorangie Signet Single Malt
In search of the extraordinary, the distillery is given over to a demanding distillation, which unites a high roast chocolate malt with their signature malt to coax out a spirit of espresso intensity. Pure and bitter-sweet, it rises through their stills - the tallest in Scotland. A beguiling aroma of aruba-rich coffee fills the air...
 A single-minded vision, this rare and unexpected spirit is only one part of the story. The intensity of the signet spirit is tempered. over many years, by a judicious marriage of unique cask types. Creaminess from specifically crafted bourbon barrels, sweetness from sherry butts and a spicy backbone from unusual virgin charred oak casks are all part of the selection. With the careful balance of some of our oldest stocks, the result is a spiralling taste of sizzling spices and bitter mocha mellowing into smooth notes of butterscotch.
This unparalleled creation inspired by the profound satisfaction of a coffee cup's aroma and brought to life through years of the master distiller's craft and patience. This is a single malt whisky born of singular vision not of serendipity, but of design. Experience Glenmorangie Signet,
---
We Also Recommend