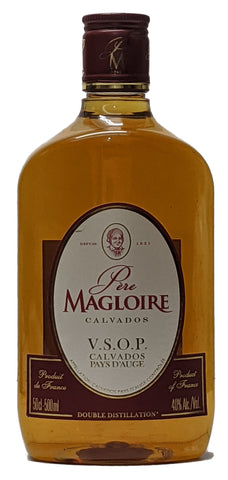 Pere Magloire VSOP Calvados 500ml
Since 1821, Pere Magloire has been keeping alive the tradition of Cahados, one of the oldest of all French brandies and protected by an AOC Appellation d'origine. Intense apple flavors have brought it worldwide renown.  Calvados is notable because it is made only from cider from apples harvested in the Pays d'Auge, an area covering barely 6% of Normandy. The character this soil gives the apples, combined with double distillation in copper stills, richness and length.
V.SO.P. is blended from Calvados which has been aged in oak barrels for at least four years.
500ml Plastic bottle.
---
We Also Recommend