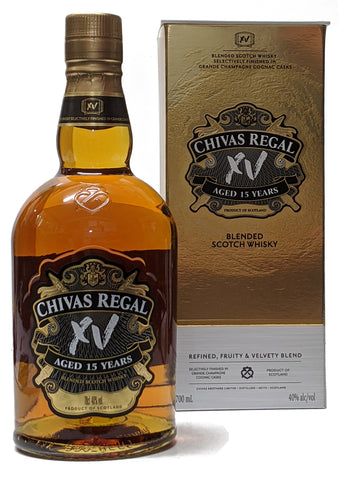 Chivas Regal XV 15 Year Old Scotch Whisky
A refined, fruity and velvety interpretation of the Chivas house style inspired by John & James Chivas, who pioneered and excelled in the art of blending fine whiskies in the 19th century. Chivas regal continue this legacy today with Chivas regal XV. A 15 year old scotch whisky enriched with subtle flavours of  Grande champagne cognac* casks. Unleashing a scotch with a uniquely refined fruity and velvety taste. Precious Grande champagne cognac casks the secret to the outstanding taste is the selective finishing of some of this remarkable 15 year old blend in casks that were originating from the heart of the cognac region in France, these cognacs are renowned for their outstanding previously used to mature Grande champagne cognacs* quality and taste.
Tasting Notes
Chivas regal XV opens with rich and sweet aromas of marmalade, cinnamon and juicy sultanas that the incredibly smooth and velvety texture is perfectly rounded off with a touch of vanilla. Transform into a delicious medley of fruit flavours intermingled with butterscotch and caramel toffees.
---
We Also Recommend